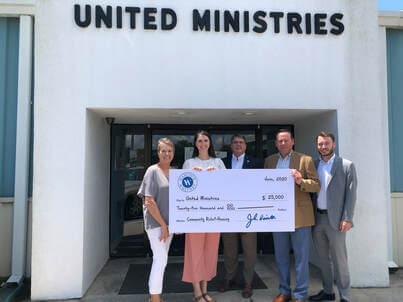 Pensacola, Fla. (June 18, 2020) — As COVID-19 swept the nation and unemployment began to reach staggering heights, the housing crisis quickly escalated leaving Americans seeking aid. United Ministries assists families experiencing a financial crisis with rent or utility bills and strives to operate as agents of grace in the community, serving those in need with compassion and empathy. In partnership with Hancock Whitney—one of America's strongest, safest banks—the organization will provide $25,000 in relief assistance to those in low- and moderate-income households who have experienced job loss, furlough, or a reduction in hours of work or pay due to the economic impacts of COVID-19.
"Because of the impact the COVID-19 pandemic has had on our community, families are still struggling to pay rent and utility bills," said United Ministries Director of Operations Katherine Kupar. "We are grateful to Hancock Whitney for their support of our ministry. Their grant will make a difference in the lives of those families who are struggling."
Assistance includes directly supporting an estimated 50 clients with rent relief.
In April, Hancock Whitney announced a $2.5 million investment to help people in some of the Gulf South's most vulnerable neighborhoods during the COVID-19 pandemic—a total of $710,000 allocated to housing organizations to fund housing assistance and legal services that provide critical eviction representation across Florida, Alabama, Mississippi, Louisiana, and Texas. The investment also has helped to stock local food pantries, provide cloth face masks to protect residents and first responders, and fund community health centers.
Hancock Whitney Market President Bruce Vredenburg said the bank's commitment to housing relief and legal services comes at a critical time as many local communities across Hancock Whitney's banking footprint have begun, or will soon begin, to lift rental and eviction moratoriums.
"Over the past few months, we have been faced with unprecedented impacts to our local, state, and national economies," said Vredenburg. "At Hancock Whitney, our institution is anchored in values, reinforced with resilience, and focused on opportunity. It is important to us that we partner with local organizations to help preserve the incomes of our neighbors, so they have every opportunity to recover."
If you're an individual in need of help, you can see if you qualify or read more about the assistance we offer.
About Hancock Whitney
​Since the late 1800s, Hancock Whitney has embodied core values of Honor & Integrity, Strength & Stability, Commitment to Service, Teamwork, and Personal Responsibility. Hancock Whitney offices and financial centers in Mississippi, Alabama, Florida, Louisiana, and Texas offer comprehensive financial products and services, including traditional and online banking; commercial and small business banking; private banking; trust and investment services; healthcare banking; certain insurance services; and mortgage services. The company also operates a loan production office in Nashville, Tennessee, as well as trust and asset management offices in New Jersey and New York. BauerFinancial, Inc., the nation's leading independent bank rating and analysis firm, consistently recommends Hancock Whitney as one of America's most financially sound banks. More information is available at hancockwhitney.com.